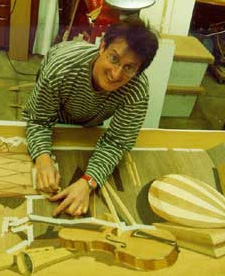 Kerin Lifland, 41, was born in Paris, France, raised in New Jersey, and has called California home for 24 years. After earning degrees in art from Stanford University and the University of Southern California, Kerin soon abandoned painting (but not his garage) to pursue the vastly more lucrative promise of a career in furniture making. He is a self-taught woodworker, relying on reading, the kind advice of friends and strangers, and the occasional workshop to advance his repertoire of skills and techniques. Kerin's design aesthetic is likewise informed by a diverse set of influences and life experiences. He looks both East and West for inspiration, seeking to animate traditional forms with a simple sense of grace and playfulness.

Kerin is a card-carrying member of the Furniture Society, an organization of makers, collectors, educators, gallery owners and enthusiasts devoted to furthering the cause of the studio furniture movement (www.furnituresociety.org).

Kerin lives in Los Angeles with his wife Jennifer, a certified arborist, and their two children, Noah and Lucia.